2013
02.26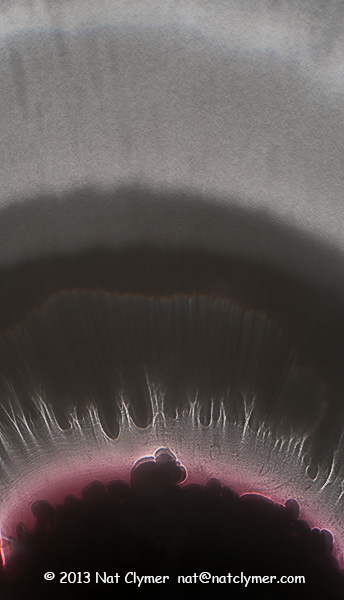 I was sitting in our family room the other night while my wife, Audrey, was in the kitchen beginning to work on a dinner we were having the following night when some friends were coming over for the evening.  All of a sudden I heard her say, "Wow, that's neat!" .
We've been married for several decades now and with that amount of time "under our belts" we've learned how to  decode rather quickly what we're actually saying with such off the cuff comments.
So I knew that that was my cue to get up and go into the kitchen to look at what she had commented upon;  and I have to admit, it was interesting!  She was beginning to soak some dried black beans so that she'd be able to make refried beans the following night for our Mexican themed dinner and the way they were sitting on the counter and the light was shining through the glass bowl was pretty amazing!  Of course, in order for me to photograph them, I couldn't do it directly on our yellow [think 1950's ! 😉 ] counter tops, I had to go find a piece of bright white mounting board out in the barn so that the colors would be closer to "true"!  I really am so gratful that she's learned to put up with me!
One of the things that makes me a photographer, I suppose, is that when I see something "different" I usually have to photograph it whether it's a small detail, a brilliant unexpected color or just an interesting pattern.  There was another time a few years ago when Audrey pulled two baked beets out of the oven for our dinner and I heard the same exclamation and went into the kitchen to find a piece of aluminum foil  filled with bright red beet juice.  And of course I had to do an entire set up before we could eat.  Did you know that cold baked beets really aren't too bad even if the butter won't melt over them any more?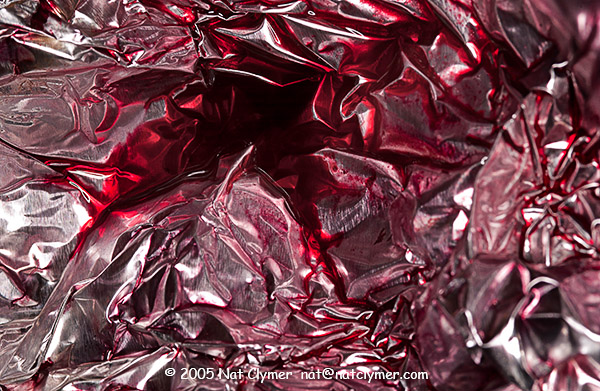 I really love finding all of these interesting things in our "ordinary" world!  I guess it's what gets me up every morning and has me charging into the day!  What new little thing am I going to see that needs to be photographed by my  twisted little mind's eye!  What will I see that no one else has ever seen or simply never paid attention to before?
Somewhere in rural New Jersey