2012
11.30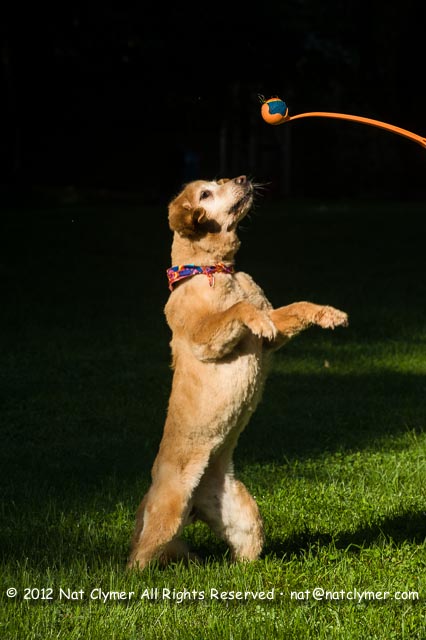 Today was one of those REALLY difficult, BAD days!
We got Roxie in the late fall of 2001 from a local breeder who had named her Bianca.  We really liked the breeder because one of the first things she told us was that there was absolutely none of a particular local blood line in any of their dogs a blood line that almost single-handedly destroyed the breed because of the inbreeding they did simply to produce more dogs for sale.  Bianca seemed to have the right amount of gumption and independence and our youngest daughter just fell in love with that ball of fluff [and who wouldn't?!? have you seen photos of six week old Golden Retrievers?]
That first winter I built a small fenced in area immediately outside our kitchen door so that we wouldn't have to go outside with her in the snow when she had to pee and it worked really well, then by spring we were spending more time with her outside training her to our Invisible Fence and she got into the puppy habit of of eating her own waste so we began our campaign to stop her.  We devised this interesting technique of watching her with a hawk eye and as soon as she pooped, we'd run right over and pour hot sauce on it to dissuade her.  The only problem with that idea was that she LOVED hot sauce!  No matter how hot it was [I'm sure that if anyone knew what we were doing with it, they would have reported us to PETA!], and we did find some exotic wasabi and incredibly hot pepper sauces, she would just gobble it up.  We thought we had made a HUGE mistake in getting her, she was embarrassing us so much.
That summer we started doing obedience classes with her because she was quite strong willed and we felt it was important to have her well trained [always important with the larger breeds when you may have people over who are not dog lovers!].  The first one was in the lobby at our vet's office but she was too interested in meeting all the other puppies who were much smaller than she and then in her excitement she peed on the floor multiple times.  We ended up trying several other obedience schools but no matter where we went, my wife and daughter would come back close to tears because they had been shamed so much by the various instructors who thought Roxie was a devil dog!
We finally found someone who had recently left The Seeing Eye where he had been a trainer and he would make house calls to help train dogs.  We think she fell in love with Christian because she was ALWAYS perfectly behaved whenever he came by.  Christian eventually opened his own grooming shop so we continued to go to him to give Rox her time with her "boyfriend".  She would come back with her new "Puppy Cut" and we knew that she just loved her day with Christian and her new 'do
Whenever Audrey would get on the phone, Roxie would go and find her porcupine rubber toy and start to squeeze it in her mouth because it had an especially loud squeaker in it.  Or she would start to chase her tail occasionally pulling out the hair so that she looked a bit like she had a rat's tail.  By the time she was 2, she was doing a lot of the tail chasing and we decided that she really needed a playmate [I had only been working on Audrey for twenty years to persuade her that two dogs were better AND less work than one, but it took Roxie finally to convinced her!].  We ended up going to Delaware Valley Golden Rescue in Reinholds, PA [no where NEAR the Delaware River!] and found a wonderful 2 year old female.  Before we could complete the adoption, we had to bring Rox out there to meet the new dog so that the people at DVGRR would be sure that the two dogs got along.  When Rox and Pixie met in a small fenced in area at DVGRR, they just started to run circles around us and began to play together.  A perfect match.
They have been the best of friends for nine years, really like sisters complete with the occasional arguments.  And today we had to put Rox to sleep because she had a tumor growing in her mouth that was beginning to bleed and cause her to choke on her own blood.  And we are all heart broken!  She was a wonderful dog with all of her  idiosyncrasies and her strong will simply to love us to the best of her abilities …
I am so glad that Alex, our youngest daughter, suggested that I sleep downstairs last night to be with Roxie one last time …
When we had to put down my first dog, Kate, someone sent me a wonderful essay by Eugene O'Neill that I have kept all these years and passed on to anyone I know who has lost their dog.  I would recommend that you read it only when you're alone …
Somewhere in rural New Jersey