2012
09.19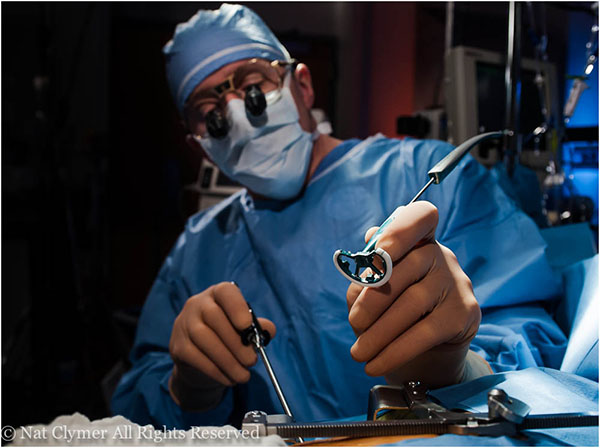 The second best part of being a photographer for me [after meeting all sorts of different people!] is all the places that I get to go that most people never see!  In the healthcare industry that means research labs, treatment areas with all the new technology, and operating rooms!  And in all of them, especially the OR, I'm still working with the concept of "photomasks" as well as real masks.
If there's an actual procedure going on then, obviously, I'm not interfering at all with the action and I just keep a sharp eye on the body language and the concentration of the surgeon.  If it's a staged situation, such as the scene above, then I can really work to get the best possible nonverbal [visual] arrangement of elements.
We were shooting for this hospital's advertising campaign for the cardiovascular service line.  We wanted to show the new technology they were employing in the OR with minimally invasive valve replacements. So here I didn't need to work as much with the expression on the surgeon's face [which you can't see anyway because of the surgical mask] but I needed to make the artificial valve stand out in the OR setting.  That was done primarily with the placement, focus and lighting of the valve and the surgeon's hand.  Then I needed to get the proper level of concentration into his body language, posture and head angle and make him just a bit darker and a bit softer then the valve itself so as not to distract from it.
So, working with "photomasks" is really all about the interaction and rapport that I use and develop with the people I photograph to get them into a state of mind that I feel best accentuates the message that my clients want to convey about their people, their processes and their organization.  It's about the visual messaging that my clients want to put out to their various audiences about the kind of people they employ, the interactions that audience may expect from their staff as well as the kind of service they will be receiving.
Somewhere in rural New Jersey