2012
05.08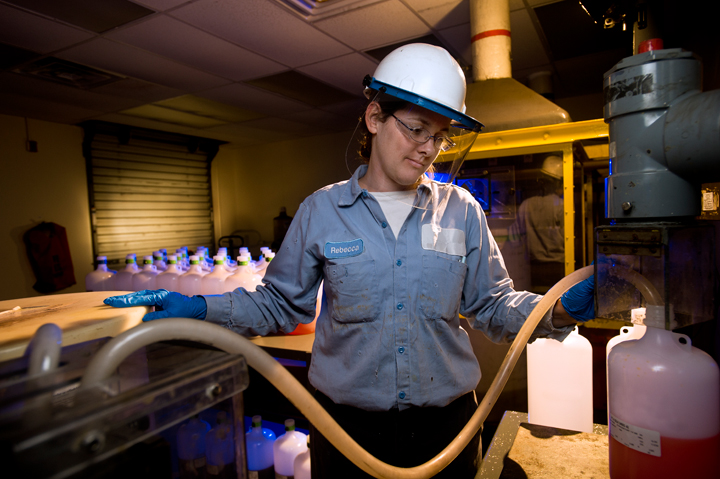 Rebecca was working on the plant floor at a client's facility in South Carolina and we were working on building a library of images that documented their reclamation processes.  We were doing the typical "diversity dance" where we needed to get a broad selection of the different folks who work in the facility. 
Rebecca's supervisor asked her if she'd be willing to help us out and pose for a few images and she declined.  The fellow that I was with from corporate headquarters can be a pretty smooth talker, so he stepped in to see if he could persuade her to help us.  He can be very persuasive and he did try multiple approaches, but she really dug her heels in and refused more adamantly each time he asked.  He and I made eye contact and I asked if she would mind just stepping out into the hallway with me for a minute so we could talk without anyone else around.
Within about two minutes we came back into the room, she stepped into place and showed me what she would normally do in the recycling process and we were able to get the images we needed while the client rolled his eyes and wore an expression that simply said, "How in the hell … !!"
As soon as the client and I got into the car to leave, he turned to me and had to know what I had said to her.  I explained that I had told her how many other women she would be helping by showing that she had a job that she was happy to have and that that job made her an important part of her own family;  in other words, the photos really weren't about her at all but about all the other women she would be helping.  It was a fairly simple matter to explain that her photo was so much more than just an image of her.
We all have egos and often times they will prevent us from doing certain things, like having our photo taken when we're not looking our best or when we're wearing our dirty work clothes or when we're not feeling particularly clean and spiffy.  I absolutely understand that and I find that sometimes I have to take the time to explain, in very gentle ways, the photos I'm taking are not of or for the individual but are of and for the organization.  I have to guide people into understanding the "photomask" or "costume" they think they're presenting to the world doesn't represent them personally but represents the organization for which they work.  And usually with that, their ego can move to the side and we can get the imagery we need.
Somewhere in rural New Jersey